Keep your system up to date

next3 software update
Procedure for the next3 software update in nextOS using the next interface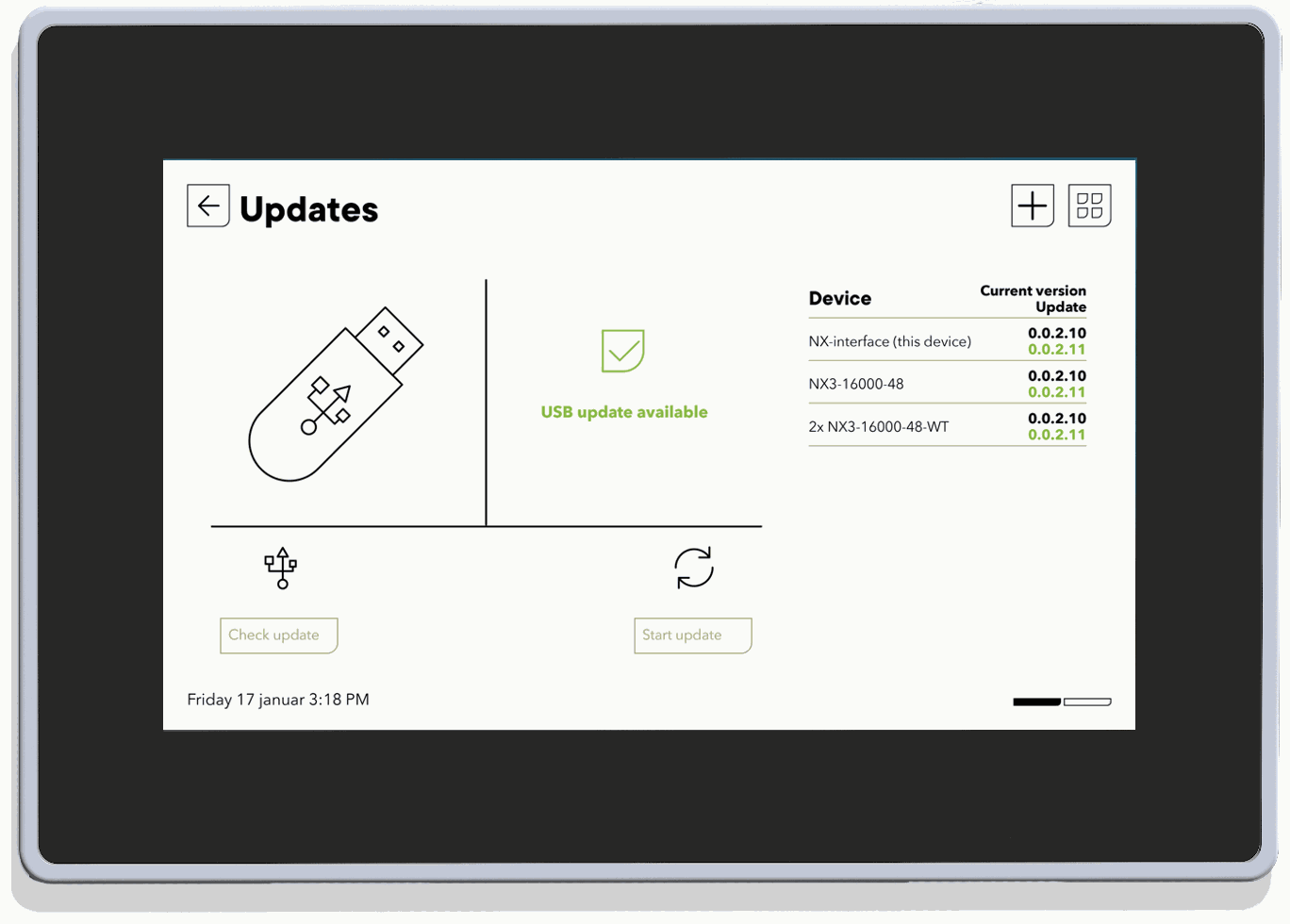 Update
The update section is where the update of the next operating system (inverters, nx interface and accessories) is done.
In the update screen, you can choose which source will the update come from:
USB key: Download the latest software version from our website (https://www.studer- innotec.com/en/downloads/) in download center. Go to Software and Updates section and download the "next3 system update". Unzip and copy the "next_vX.Y.Z.A.stub" file on a USB key at the root of the key. The usb-key must not be removed until the end of the updating process. If for some reason the updating process is interrupted, restart it to let the process finish.

Internet (not yet available): The update via internet is available for the next3. A new button will appear when ready. Press "search" for the source you want to use.
After the check, the screen tells you if an update is available. The current and the available update can be seen on the right side. Information are displayed in case of incompatibility.
Once the update is ready, you are informed of the available versions and you can start the update of the system with the "Start Update" button.



The update is performed in many steps: first the nx-interface is updated and then you must press again on the "start update" button for the next2 devices.

The updating process can take between 3 and 15 minutes. NEVER disconnect the battery during an update. During this process, the installation is stopped and the AC power supply is interrupted. Choose the proper moment to process an update.

ADVICE: When multiple elements are connected to the nx interface and to the next3 by the communication bus, it is possible that the software versions are not compatible. It is highly recommended to update the software of all components in the system to guarantee all functionalities. Therefore, before starting the setup of the device, download the latest software version from our website: www.studer-innotec.com on an USB key. Follow the instructions in this manual for a successful installation.